We will meet at Prodexpo-2023!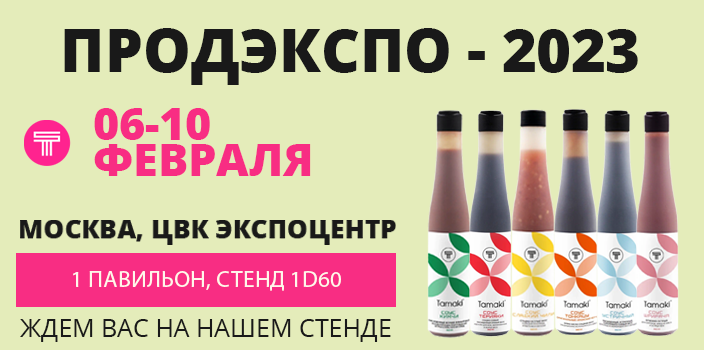 From February 6 to 10, Moscow
will host the largest international exhibition - Prodexpo-2023.
By tradition, this event will become a meeting place for consumers, distributors, manufacturers of food and beverages.
Our company's stand at the exhibition will be open for all 5 days! Come to immerse yourself in the world of Japanese and Pan-Asian cuisines with us, learn more about the production and products of Tamaki.
At the exhibition, you will be able to communicate with our team: managers and managers, get answers to your questions. We will be happy to meet each of you, introduce you to new products and hits of Tamaki. And, of course, we will conduct a tasting of our products!
And at the exhibition you will be able to taste dishes from the brand chef of "Tamaki" Ilya Zhdanov. Especially for you, he will prepare hot dishes and salads using Tamaki products, show unusual ways of serving and decorating dishes.
In the menu "Prodexpo-2023":
Salad with beetroot and feta cheese.
Salad of cucumber, arugula, salmon, peas and Poke sauce.
Tempura roll with chicken.
Minced chicken meatballs with Panko breadcrumbs and pineapple curry sauce.
Wok with noodles, vegetables, chicken, Teriyaki sauces and Sweet chili for chicken.
Rice with chicken and vegetables.
Fried rice with garlic and chicken in Soy sauce and Sriracha sauce.
Chuka salad with Nut sauce.
Come to the exhibition "Prodexpo-2023", it will be interesting!
Exhibition address:
Moscow, Expocentre Fairgrounds, Pavilion 1. You will find our company at booth 1D60.
Exhibition opening hours: February 6 – 9 from 10:00 to 18:00.
February 10 from 10:00 to 16:00.
You can purchase a ticket for all days of the exhibition by clicking on the link:
www.prod-expo.ru
See you at Prodexpo-2023!
We create taste!