Bright and fashionable novelty: Tamaki Green Chili sauce!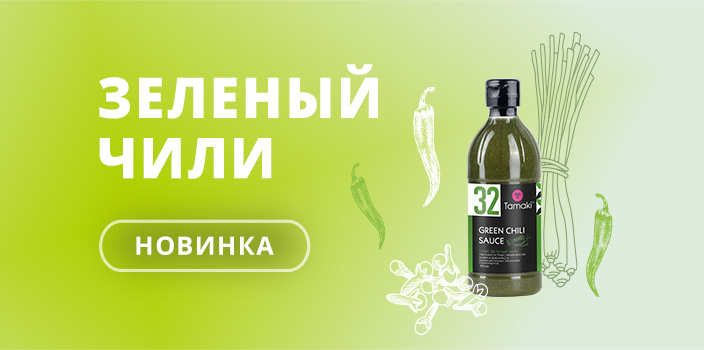 Thailand is a country of culinary discoveries, in which sauces occupy a special place. With the help of them, Thais achieve the desired sharpness in dishes, make them more spicy, bright and memorable.
Many of the tourists vacationing in the country fall in love with local sauces, and then look for their analogues in their homeland.
For all those who remember the taste of Green Chili sauce, we have good news! We have started its release!
Green chili is a new product of the Tamaki sauce line with a wide range of applications and an unusually bright taste that will take you to Thailand in an instant!
Green Chili sauce is a trending product, it is becoming more in demand and popular in restaurants and retail chains every day. First of all, it is chosen for its unforgettable piquancy and spice, light sharpness, bright taste of lime and lemongrass. At the Prodexpo exhibition, which took place in early February, Green Chili collected a lot of compliments from chefs who were delighted with its taste combinations!
You can add sauce to literally any dish: serve meat and seafood with it, vegetables cooked in a wok. In Green Chili, you can marinate poultry, seafood and meat to make them more tender and juicier. And it is also suitable for sauce art, used to decorate favorite dishes.
Look for Green Chili sauce on Wildberries and Ozon, order it through distributors!
We create taste!